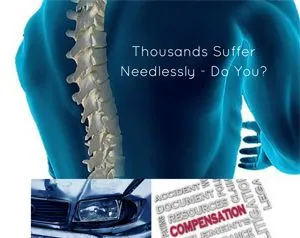 We have found that many of today's aches and pains are the result of an injury several years prior such as an automobile accident, a work related injury, a sports injury or a fall. It is very important to be examined after such a trauma, even if you think your injuries are not severe, to avoid serious complications in the future.
Chiropractic is a health care profession that focuses on disorders of the musculoskeletal system and the nervous system, and the effects of these disorders on general health. Chiropractic care is used most often to treat neuromusculoskeletal complaints, including but not limited to back pain, neck pain, pain in the joints of the arms or legs, and headaches.
So if you are suffering needlessly, call our office today for a free consultation to see if we may have your future healthcare solution.